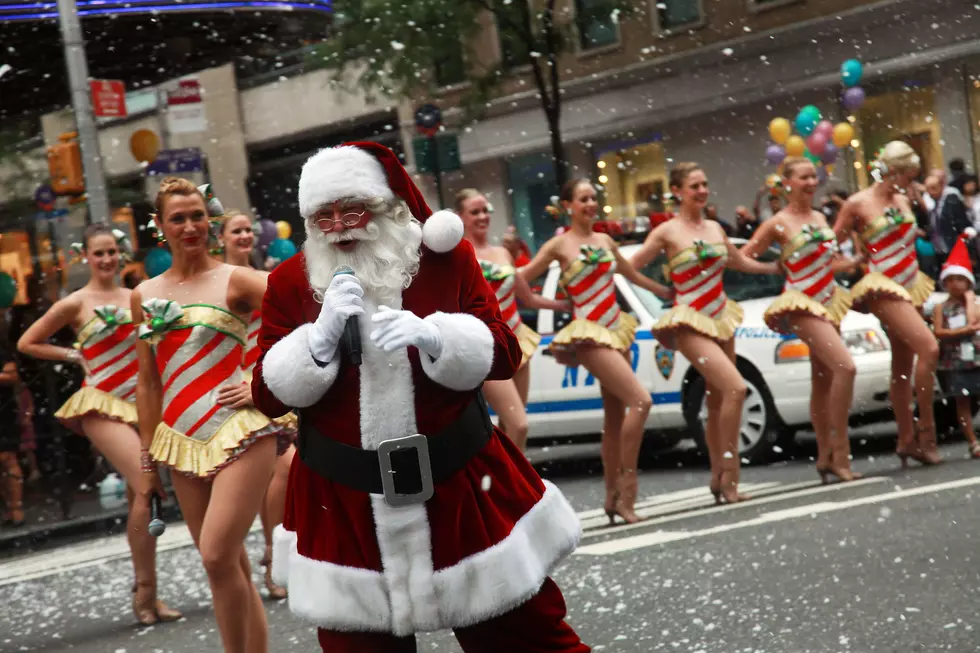 97-7 KCRR's Top 10 Classic Rock Christmas Songs [List/Videos]
Getty Images
This is the time of year to crank up the holiday classic rock and "let's have a rock n' roll Christmas, just like we used to know", to quote the great George Thorogood.
It's "Christmas All Over Again" and "Santa Claus is Coming To Town" with all the best tunes on your radio. It's time to beg your estranged spouse to "Please Come Home For Christmas", after you get caught being a "Back Door Santa" for your "Mistress For Christmas". Then through a Christmas miracle, she'll forgive you and you can wish her "Merry Christmas Baby", then you can sing "Thank God It's Christmas"!
Of course, we know there is a lot of good Christmas classic rock out there, everyone has different tastes. That being said, this list is subjective, so if you agree or disagree, that's ok. We did not include some of the more "pop music" sounding songs. Most notably, there's no "Step Into Christmas" or "Wonderful Christmas Time", just not "rockin' enough. It was hard choosing just 10, but here we go, let's count them down from 10 to 1. (SCROLL DOWN)
HONORABLE MENTION: Happy Xmas (War is Over) - John Lennon Normally, we're not big fans of backing children's choirs in our classic rock, but the lyrics are PERFECT for this year. "A very Merry Christmas, And a Happy New Year, Let's hope it's a good one, Without any fear." Those lyrics ring true in this year of a scary pandemic.
10. SOCK IT TO ME SANTA - BOB SEGER & THE LAST HEARD Notice the name of the band, "The Last Heard", this was done way before 1974 when they called themselves the "Silver Bullet Band".
9. THANK GOD IT'S CHRISTMAS - QUEEN It's freakin' Freddy Mercury beltin' one out, "nuff said".
8. FATHER CHRISTMAS - THE KINKS This is a rocker with some darker lyrics, "Father Christmas, give us the money, don't mess around with those silly toys, we'll beat you up if you don't hand it over". And also a nice message in there as well, "Have yourself a merry, merry Christmas, have yourself a good time, but remember the kids who got nothin', while you're drinkin' down your wine."
7. MISTRESS FOR CHRISTMAS - AC/DC Nothing says "Christmas" like these lyrics from one of our favorite bands, "I want the woman in red with bow in my bed, I can hear you coming down my smoke stack, I want to ride on your reindeer honey and ring the bells!" Ho, ho, ho...get it? Ho?
6. BACK DOOR SANTA - BLACK CROWES Since we're going down that path, this song is more than just "slightly suggestive". It's lays it all out, "I make all the little girls happy, while the boys are out to play".
5. MERRY CHRISTMAS BABY - BRUCE SPRINGSTEEN & THE E STREET BAND The version on the "A Very Special Christmas" album is probably the best one out there, featuring Clarence Clemons wailing away on the saxophone.
4. PLEASE COME HOME FOR CHRISTMAS - THE EAGLES The lyrics sum up 2020 - "Ooh, there'll be no more sorrow, no grief and pain, and I'll be happy, Christmas once again". We also give a "nod" to Bon Jovi's version.
3. CHRISTMAS ALL OVER AGAIN - TOM PETTY & THE HEARTBREAKERS One of our all-time favorites (R.I.P), Tom Petty sings, "long distance relatives, haven't seen them in a long, long time, Yeah, I kind of missed them, I just don't want to kiss them... I guess that's one good thing with the Covid-19 restrictions, you don't have to worry about kissing Aunt Harriet with the hair growing out of her mole.
2. ROCK N' ROLL CHRISTMAS - GEORGE THOROGOOD & THE DESTROYERS Like Springteen's two Christmas songs, this one features some fun saxophone playing as well. "We'll rock around the tree, go Santa, go, go, go"...
1. SANTA CLAUS IS COMING TO TOWN - BRUCE SPRINGSTEEN & -THE E STREET BAND This is just a fun sing-along song, with Clarence Clemons once again, blasting on the sax and adding in some "ho ho ho's". Springsteen asks the crowd of cheering fans, "Everybody out there been good… or what?" [Crowd cheers] "Oh, that's not many! Not many! You guys in trouble out there." So you better not pout, pour a drink, put on a smile and crank up some of these festive classic rock songs this year!
Did we miss any classic rock Christmas tunes that you like? Let us know on on our station app or Facebook page.
Enter your number to get our free mobile app
KEEP SCROLLING: 10 Iowa Town Names With Naughty Sounding Names