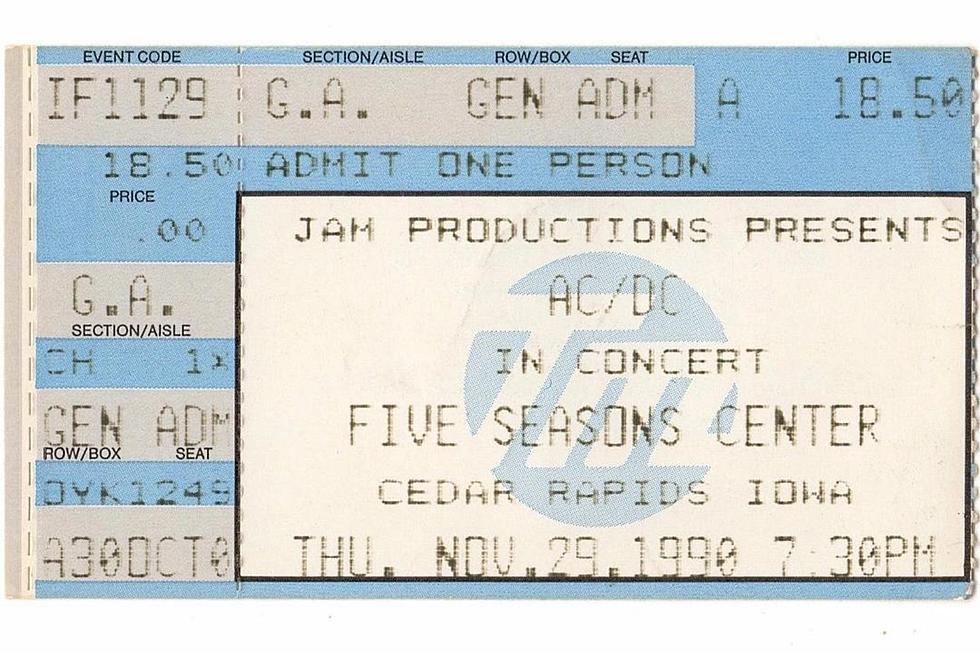 31 Years Ago Tonight: AC/DC Rocked Cedar Rapids (VIDEO)
worthpoint.com
Just two months after the release of their multi-platinum 12th studio album, 'The Razor's Edge,' AC/DC rocked the hell out of the Five Seasons Center in Cedar Rapids. (Now known as the Alliant Energy Powerhouse.)
General admission tickets were just $18.50.
This was one of nearly 200 dates on 'The Razor's Edge Tour' and this stop featured the band Love/Hate as the opener. (This band had a song called "She's an Angel" that was featured on the soundtrack to 'Nightmare on Elm Street 4: The Dream Master.)
This concert in Cedar Rapids occurred just ten days before the release of the song "Moneytalks."
The tour also rumbled through Ames just five days later on December 4th.
AC/DC performed 21 songs that night in Cedar Rapids, including three in the encore. (setlist below)
What I find amazing about this concert, is that someone was able to sneak in a video recorder and 'taped' the entire concert. Now, remember, this was 1990. We didn't have HD recording devices that are smaller than your hand. This was most likely an enormous VHS camera that someone smuggled in under their jacket, somehow.
Angus Young - Lead Guitar
Malcolm Young - Rhythm Guitar
Brian Johnson - Lead Vocals
Cliff Williams - Bass
Chris Slade - Drums
SETLIST:
Thunderstruck
Shoot to Thrill
Back in Black
Fire Your Guns
Sin City
Heatseeker
Jailbreak
The Jack
The Razors Edge
That's the Way I Wanna Rock 'n' Roll
Moneytalks
Hells Bells
High Voltage
You Shook Me All Night Long
Dirty Deeds Done Dirt Cheap
Whole Lotta Rosie
Let There Be Rock
Encore:
Highway to Hell
T.N.T.
For Those About to Rock (We Salute You)
Roseanne Barr Abandoned Iowa Mansion in Eldon, IA
I fell into a rabbit hole when I found out that
Roseanne Barr almost had a mansion in Iowa
. After seeing the current state of the property on Facebook, I was amazed that such an extravagant project could be so quickly overtaken by nature. Only two hours away from Waterloo, this abandoned field could have hosted some of the coolest and elite Hollywood parties in the Midwest. The current photos were taken by Gable Fry on a recent trip he took.
LOOK: 50 famous memes and what they mean
With the infinite number of memes scattered across the internet, it's hard to keep track. Just when you've grasped the meaning of one hilarious meme, it has already become old news and replaced by something equally as enigmatic. Online forums like Tumblr, Twitter, 4chan, and Reddit are responsible for a majority of meme infections, and with the constant posting and sharing, finding the source of an original meme is easier said than done. Stacker hunted through internet resources, pop culture publications, and databases like
Know Your Meme
to find 50 different memes and what they mean. While the almost self-replicating nature of these vague symbols can get exhausting, memes in their essence can also bring people closer together—as long as they have internet access.