Wait — Halloween Candy Is Already on Sale?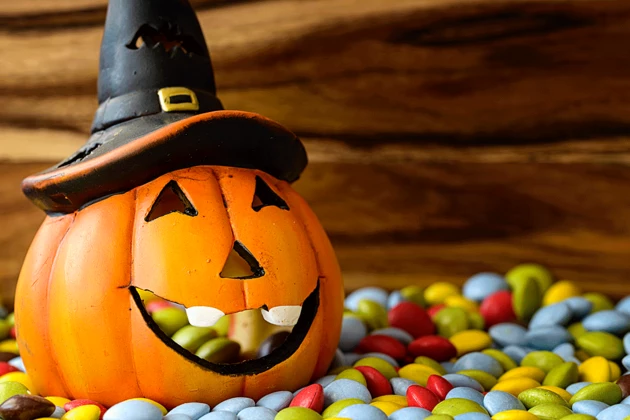 It's never too early to scare up some treats. Or is it?
The calendar may still say summer, but plenty of stores are already getting a jump on one of fall's signature days by selling Halloween candy. And this is as good an excuse as any to report that Oreo-flavored M&Ms are here. That sure beats the pants off of cough drop-flavored Kit Kat.
Stores have reasons for putting candy on shelves, but the fact remains that we're still knee deep in watermelon and lemonade season, so there are loads of folks in the Twittersphere scratching their heads.
What do you think? This is a topic that feels like recurs year after year. Is it too early for Halloween candy in stores or are people just getting their bite-sized Three Musketeers in a knot for no good reason?
#ItsRidiculousTo See Halloween Candy in the stores ALREADY!! pic.twitter.com/ajVNHhB2iy

— RoeSoLovesUofM (@roeu812) August 21, 2017
To people marveling at Halloween candy displays being up already: this was my Acme on July 23: pic.twitter.com/7OtqiQo3cQ

— Matt Mitovich (@MattMitovich) August 23, 2017
Are they serious! It is still August. #Halloween #candy @cvspharmacy Guess Christmas candy will be out any minute ☠️ pic.twitter.com/t50yWiDAAk

— Lauren Arky (@LaurenArky) August 23, 2017
And so it begins… Halloween candy at Dillon's & holiday creamers (pumpkin spice & peppermint mocha) at HyVee… #soitbegins #fall #holiday pic.twitter.com/13yvqdxZBT

— Tiffany Knowles (@rockmysocksoff) August 13, 2017
cue all the snaps of people being surprised by Halloween candy in the grocery store even though this happens every year

— Emma R-R (@emma91694) August 14, 2017
There is something inherently wrong with Halloween candy being on the shelf in August. #k5SUMMER #justwrong #tooearly pic.twitter.com/kNefm50gwU

— cynthia wise (@cwiseking5) August 13, 2017
Halloween candy in August?!… pic.twitter.com/qHNp1n7oKI

— Brian Tang (@btang13) August 23, 2017
It's August 13th and Dillons already has Halloween candy on the shelves. pic.twitter.com/NwAeOa57cu

— Michael Kaufman (@MichaelKaufman0) August 13, 2017
Warning! If you stop in a business franchise starting now, please know the Halloween candy is already out. Avoid this aisle at all costs.

— Kim (@Kim_in_Dixie) August 14, 2017
Halloween candy out already!? It's only August 12th! pic.twitter.com/5FjV9d5GxY

— Eric (@bionicrunner) August 12, 2017
Halloween candy in August pic.twitter.com/BgAIKyh5U6

— Quaszilla (@CthruHD) August 14, 2017
#Halloween candy sighting @Wegmans. pic.twitter.com/naMOhbnmfg

— Ginger Geoffery (@GingerGeoffery) August 12, 2017
There is #Halloween candy in the stores now. In August. Who in the hell has the willpower to buy it now and not eat it. Not me.

— Erin (@ErinWatt85) August 23, 2017
Source:
Wait — Halloween Candy Is Already on Sale?