Hideous Sold-Out $695 'Double Jeans' Are Twice the Terrible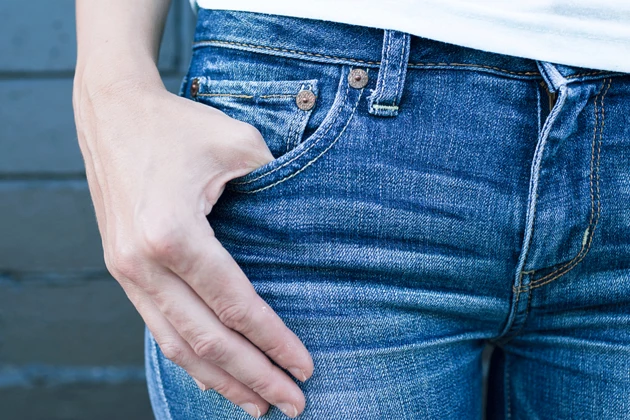 Sometimes, more is just not better.
Shopbop is selling Natasha Zinko High Waist Double Jeans for the low, low way, way too high price of $695.
In an age of weird jeans, these are quite simply the weirdest jeans I have ever seen https://t.co/DSypOAr9Mm pic.twitter.com/v48EWBALAS

— Laura Bennett (@lbennett) September 14, 2017
According to Shopbop's product description:
Layered waistbands give these wide-leg Natasha Zinko jeans a modern high-low profile. Contrast side stripes. 7 pockets. Button closure and zip fly at each waist panel. Raw hem.
They're imported from Poland, which ought to say something. Nothing against the fine Polish people, but have you ever heard anyone proudly describe any of the clothing by saying, "They're from Poland?"
There's a lot to unpack here. First of all, the jeans themselves feature two pants in one, hardly a necessity and kind of odd looking. Second, they go for $695. That's a lot of bread. Third, they're sold out, which means you can't buy them even if you've fallen down, bumped your head, lost the ability to make good decisions and elected to purchase a pair.
The Internet is in agreement that the double jeans are an example of straight up ridiculous.
HOW are the high waist double jeans SOLD OUT? WHYYY

— Vivi Parish (@ViviParish) September 15, 2017
Double Jeans for triple the price makes you a quadruple idiot for buying them. https://t.co/0KvOhCr0SQ

— Marco Hengstenberg (@nice2meatu) September 15, 2017
I fumble for my zipper enough as it is. https://t.co/33iWkYgqY3

— Lee Gregory (@leegregory4367) September 15, 2017
Double Jeans Are Double Stupid https://t.co/h1nqthqm1X

— Lobotomy Rips (@MichaelWSparks) September 15, 2017
"Highwaist Doublejeans" sounds like a name you'd make up for Benedict Cumberbatch https://t.co/6smSDvRW6X

— Tiny Mettle Robot (@misterpinder) September 15, 2017
This is just the latest bizarre offering in the world of jeans, too (remember the mom jeans with plastic knees or the fake mud jeans?), so we fully expect something to come along after this that will make our eyes roll even more.
Maybe you ought to see if you're past the age where wearing jeans is acceptable. That may not be a bad thing.
Source:
Hideous Sold-Out $695 'Double Jeans' Are Twice the Terrible